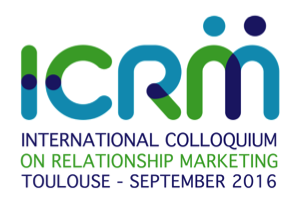 The International Colloquium on Relationship Marketing (ICRM) was conceived as an ongoing forum for creating new knowledge and circulating viewpoints which challenge established marketing theory and practices. Many of the resulting discussions during previous editions of the colloquium identified the major topics and challenges that the future of relationship marketing holds for scholars and practitioners. In line with its history as an ongoing forum for creating new knowledge and a venue for challenging existing marketing theory and practices, the 24th ICRM in Toulouse in September 2016 seeks to move relationship marketing forward and stimulate debate between academics and marketing professionals.
The ICRM 2016 Programme will be made up of three different events: a Doctoral Colloquium on September 6th 2016, the full Academic Colloquium on September 7th and 8th 2016, and an Academia Meets Practice Day on September 9th 2016.
September 6th 2015: Doctoral Colloquium
As at previous ICRM events, the 2016 colloquium will be an opportunity for doctoral students to present and discuss their PhD projects with other doctoral students and academics specialised in the field. The selection committee welcomes applications:
At all stages of the research project,
On all topics related to relationship marketing,
Following all methodological approaches,
Using innovative methods
Exploring a variety of impacts of the digital empowerment of relationships
The Doctoral Colloquium will be followed by a social event organized for early arrivals in the afternoon and a welcome reception and cocktail for delegates in the evening. (More information to follow)
September 7th and 8th 2016: Academic Colloquium
In keeping with the colloquium's mission to stimulate and encourage ongoing debate, discussion and interaction, ICRM 2016 will be organized as paper presentation sessions with time for discussion. Researchers are invited to submit their best and unpublished work on all topics related to relationship marketing - i.e. actor-to-actor including B2C, B2B, C2C, human-to-human, and human-to-machine.
The first day of the full colloquium (September 7th 2016) will finish with an informal dinner and a gala dinner for delegates will be held on the evening of September 8th 2016 at a prestigious location in Toulouse. During the gala dinner, prizes for the best paper by a doctoral student and the best competitive paper will be awarded.
September 9th 2016: Academia Meets Practice Day
On the fourth day of the Colloquium we will bring together relationship marketing specialists from academia and business to stimulate debate and the exchange of ideas. Through the participation of local and regional institutions, associations and organizations as well as the IAE Toulouse School of Management's network of sponsors we hope to encourage the transfer of knowledge on the latest scientific insights and best case studies in order to shape future research agendas and practices in relationship marketing.


The best fare for your airline ticket

Attractive discounts on a wide range of fares on all Air France and KLM flights worldwide
Event ID Code to keep for the booking: 27619AF
More details